Many factors such as location, timing and price can affect your decision to purchase a new home or resale. Often home buyers looking to relocate need flexibility in timing that can be better managed when building new. And, while often the perceived price of new construction can be daunting, when you factor in the issues and renovation projects that come along with buying an older home you'll find a new construction home can actually be a better financial investment.
So, why buy new over a previously owned home? Here are our top five benefits of buying a new home.
1. Floor Plan
New homes feature layouts that are designed for modern living and Living Dunes homes make no exception. Our architectural design team is constantly evolving our home plans to fit the lifestyle of our homeowners. From open floor plans to room sizes and creative use of spaces and natural light to the positioning of the home on the lot you will find that newer construction takes into consideration daily living on a grander scale.
2. Less Maintenance
Building codes are continually being refined and older homes may not reflect the latest updates that keep your family safe and your home running efficiently. CRG Companies, our home builder at Living Dunes, practices higher standards and builds above code which equates to high quality, long-lasting homes with less maintenance.
3. Efficient, Healthy Homes
Green building practices and eco-friendly construction materials are also ever changing. Older homes can lack these advancements, such as proper insulation, updated appliances, efficient HVAC systems, and windows and doors that keep your precious A/C inside and the drafts out. Newly built homes also feature green building materials that are known to be safer for your family.
4. Smarter Technology
As Myrtle Beach's first gigabit community, Living Dunes partnered with HTC to exclusively feature GigaHOME technology and 100% fiber-based gigabit internet connections to each and every home in the community. Everything from your refrigerator and thermostat to your home security system works better connected to uber-fast internet, and all Living Dunes homes include a standard home technology package designed for entertainment, security and efficiency.
5. Amenities
Just as home construction changes, so does the way you use your home! Today's homeowners are spending more time at home than recent years and are looking for ways to cut travel time for daily activities. New communities tend to focus on amenities that foster a healthy lifestyle and at Living Dunes we make no exception. We designed a boutique neighborhood conveniently positioned in the heart of one of Myrtle Beach's top residential locations with amenities that allow you to practice your put, swim laps, go for a run or enjoy the great outdoors with friends- just a few steps out your front door – or your front porch in our case.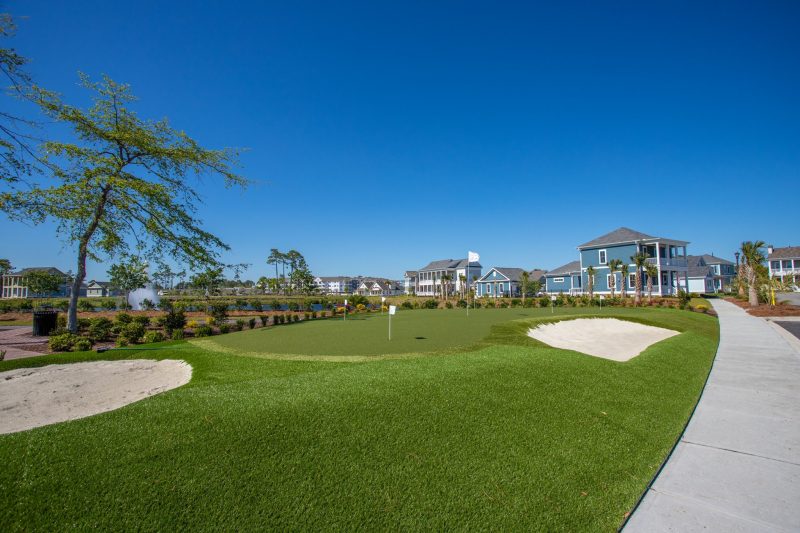 Living Dunes Lifestyle
Our prime location and unparalleled amenities coupled with our energy-efficient technology, decreased maintenance and higher standards of building, are just a few benefits of why to buy a new home in Myrtle Beach. If you are interested in learning more about becoming a resident of Living Dunes, register here and receive updates on the community, sign up for a virtual tour or talk with our team for more information.
Browse Our Current Homes For Sale