Dedication To A Higher Standard Starts With Our Team

As part of our ongoing commitment to a higher standard of construction, we've developed a team of professionals who coordinate the day to day operations on-site at Living Dunes to ensure a smooth process from sales to your final walk thru and beyond! Heading up the on-site operations is Lucas Fletcher, who serves as our lead project manager overseeing all of the vendors and contractors building our new Grande Dunes community.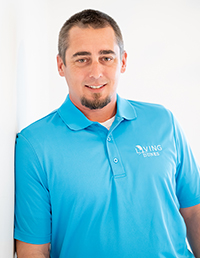 A seasoned carpenter, Lucas joins CRG with 15 years' experience leading teams on construction and remodeling projects at varying scales. Lucas' construction management background coupled with his keen attention to detail and design are paramount in coordinating the construction process and ensuring each home is built to the highest quality of construction.
Lucas is part of the seasoned CRG Companies team on-site which includes construction project manager and custom craftsman, Weldon Burns; Interior Designer, Brian Hardee; and the Living Dunes sales team Melanie Reaves, Stacy Davis, and Catherine Hill.
Design, construction, and sales of Living Dunes are exclusively managed by CRG Companies, a leader in the custom home building and real estate market along the Grand Strand. View homes for sale here or schedule a tour today!